I'm an artist with an immense love of bright, joyful colour and Australian native fauna and flora.
Growing up I felt passionate about creating art. Drawing was a way of life for me and this continued into painting where I truly realised my love for colour and its magic. 
I was always fascinated with the natural world. Animals held such a positive energy and curiosity for me and being the daughter of a bird lover really nurtured my fascination with them. Mum had this big 80's style print of neon parrots hanging proudly in our lounge room. I loved their confident punchy colours and shapes. 
When I wasn't drawing, I loved roaming around and collecting the treasures that nature left for me to find. Interesting bits and pieces fallen from trees would fill my pockets as I sought out little adventures in local pockets of bushland. Not much has changed!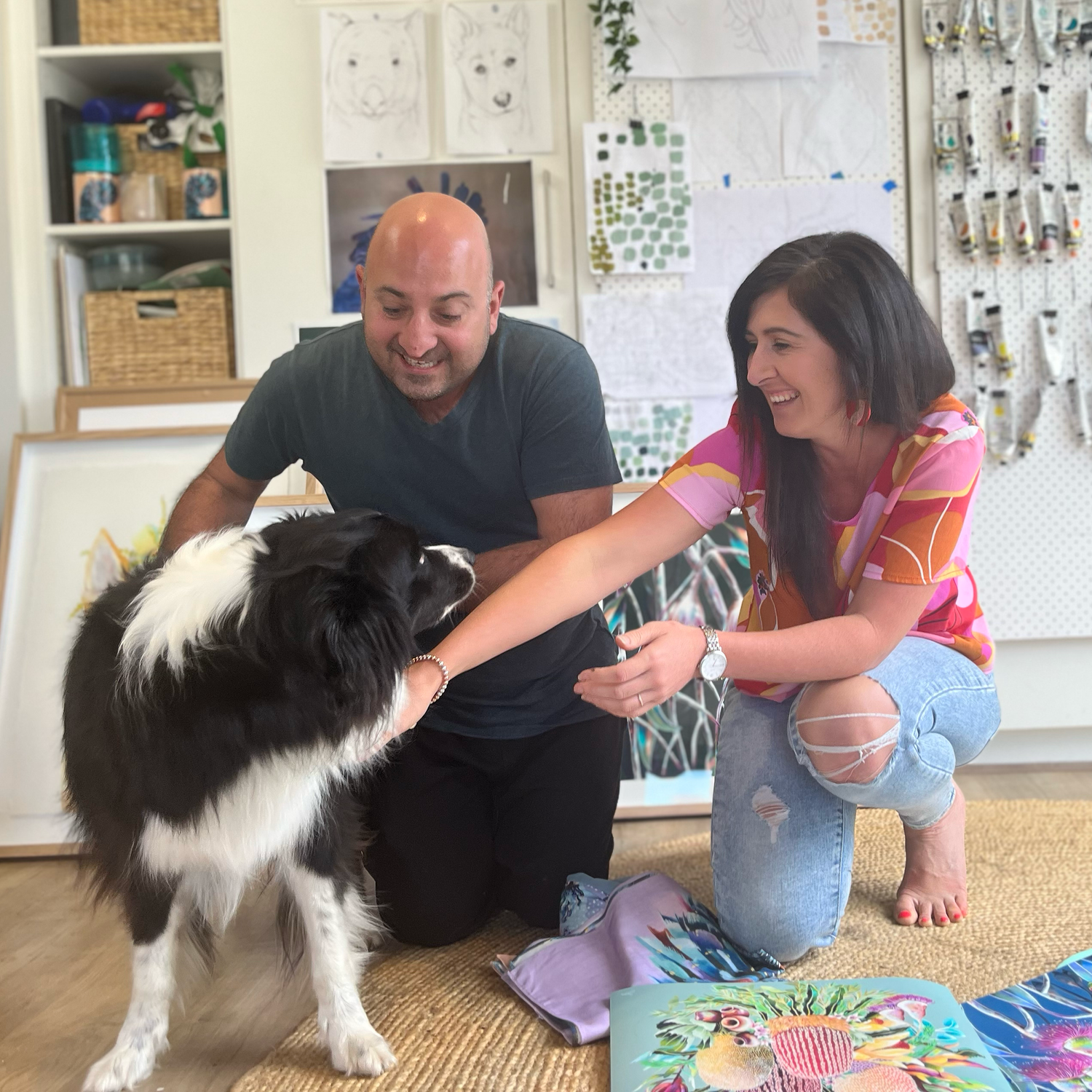 I love living in the Mornington Peninsula area of Victoria where I head out on walks with Ruby, my cheeky Australian Shepherd, and my handy husband. I still come home with a pocket full of gum nuts.
I paint for my own happiness and enjoy creating colourful pieces of Australia that also bring happiness to others. I love to take the natural beauty I see in our native creatures and turn it right up – emphasising and exaggerating the incredible colours and features that I see. I aim to bring out their unique personalities in light hearted and playful pieces designed to bring smiles.
Our native flora fascinates me with its structures and colours and I enjoy bringing them to life on canvas, creating colourful compositions of my favourites. My favourite mediums are acrylics and watercolours. I love the unforgiving nature of watercolours; they are really character building as their transparency teaches you to own your mistakes and find a way to make it work. On the other hand, acrylics are the ultimate forgiver and allow me to work adventurously and quickly, producing bold work with layers of colour.
Working in my passion and sharing my artwork with you is so rewarding and makes me the best version of myself. Seeing people smile as they connect with the subjects in my work absolutely fills my bucket. Art is happiness for the mind and soul and my mission is to spread those good vibes around through sharing my work. Thanks so much with my whole heart to every one of you legends who cheers me on.
Originial Paintings by Sarah Migliaccio
Regular price

Sale price

$1,492.42

Unit price

per

Regular price

Sale price

$508.78

Unit price

per